Skip to product information
9" Advanced Hybrid Mattress + Bedding Bundle
PRESALE! SHIPS 3/1/24
Regular price

$673.00

Sale price

$916.00
Unit price

per
The Advanced Hybrid Mattress +Bedding Bundle gives your little monkey the ultimate sleep experience.  The centerpiece of this bundle is our Advanced Hybrid Mattress designed for advanced spinal alignment and motion separation for co-sleeping.  In addition to the mattress your family will receive you will receive the essential bedding items to round out your purchase. 
The Advanced Hybrid Mattress + Bedding Bundle Includes:
1 Advanced Memory Foam Mattress1 Waterproof Mattress Protector with Tote Bag1 Organic Cotton Fitted Sheet 1 Organic Cotton Flat Sheet1 Organic Cotton Pillow Case (Twin) - 2 Pillow Cases (Full & Queen)1 Pillow (Twin) - 2 Pillows (Full & Queen)
Couldn't load pickup availability.
Product Details

Our advanced hybrid system is designed with individually wrapped coils that ensure not only optimal spinal alignment but also offer exceptional motion separation. This means that whether your child is co-sleeping with you or sharing a bed with a sibling, their sleep will remain undisturbed and peaceful.

The 5 Little Monkeys Bedding Bundle provides a complete solution for creating an ideal sleep environment for children. It consists of a luxuriously soft organic cotton sheet set, offering moisture-wicking properties and durability for a comfortable feel. The bundle also includes a waterproof mattress protector to provide peace of mind and protect the mattress from accidents. Additionally, the included pillows are specifically designed with the optimal height for a child's neck, especially during their developmental years. This comprehensive bundle addresses various aspects of a child's sleep needs, ensuring a better night's rest.
Mattress Layers

The 9" Advanced Memory Foam Mattress features a stretch-knit organic cotton cover with recycled PE side fabric.

- Cooling Phase Change Material

- 1" High Density Plush Memory Foam

- 1" High Resiliency Medium Energex Foam

- 7" 660-Count Pocketed Support Coils in a Queen with 3 Rows of Extra Firm Edge Coils
Warranty

Mattress: 15-Year Limited Warranty.

Bedding & Pillow: 1-Year Limited Warranty.

See our Warranty Page for more details
100 Night Risk-Free

We're so confident in our childrens mattress, we want you to try it risk free. If you and your little one don't fall in love with the mattress after 100 nights sleeping on it, just let us know. We'll pick it up and give you a full refund, no questions asked.
Shipping

This mattress is compressed and rolled ship to your doorstep in 3-7 business daysl
9" Advanced Hybrid Mattress + Bedding Bundle
A Mattress Designed for Kids
and a bedding bundle to ensure spinal alignment, mattress protection and reduces allergies.
MEMORY FOAM

The unique properties of our CertiPUR-US ® certified memory foam allow it to adapt to your child's unique temperature regulation needs. That means little bodies stay comfortably balanced from head to toe – so your child sleeps soundly through the night. This kids' mattress contours to the shape of your child's body to relieve pressure points and promote proper spinal alignment.

POCKETED COILS

The state-of-the-art coil system excels in reducing motion transfer. This means that if your little one happens to doze off during a bedtime story their peaceful sleep won't be disturbed by any movements you make. You can enjoy reading to them or simply spending quality time together without worrying about disrupting their rest.

ANTIMICROBIAL & HYPOALLERGENIC

Memory foam is not only hypoallergenic but also antimicrobial due to its inherent properties. Its dense structure and composition make it resistant to common allergens such as dust mites, mold, and pet dander. This inherent resistance helps create a cleaner and healthier sleep environment by minimizing the presence of potential allergens.

ORGANIC COTTON

Made from organic cotton, the sleep surface of the mattress cover allows for enhanced airflow and ventilation, promoting a cooler and more breathable sleep environment for your child. The natural properties of organic cotton help regulate body temperature, wick away moisture, and prevent heat buildup, ensuring a refreshing and comfortable night's sleep.

MACHINE WASHABLE

The mattress cover is designed to be 100% machine washable, allowing for convenient cleaning. You can simply toss it in the washing machine whenever needed. For optimal results, wash the mattress cover on a cold setting and avoid using heat when drying.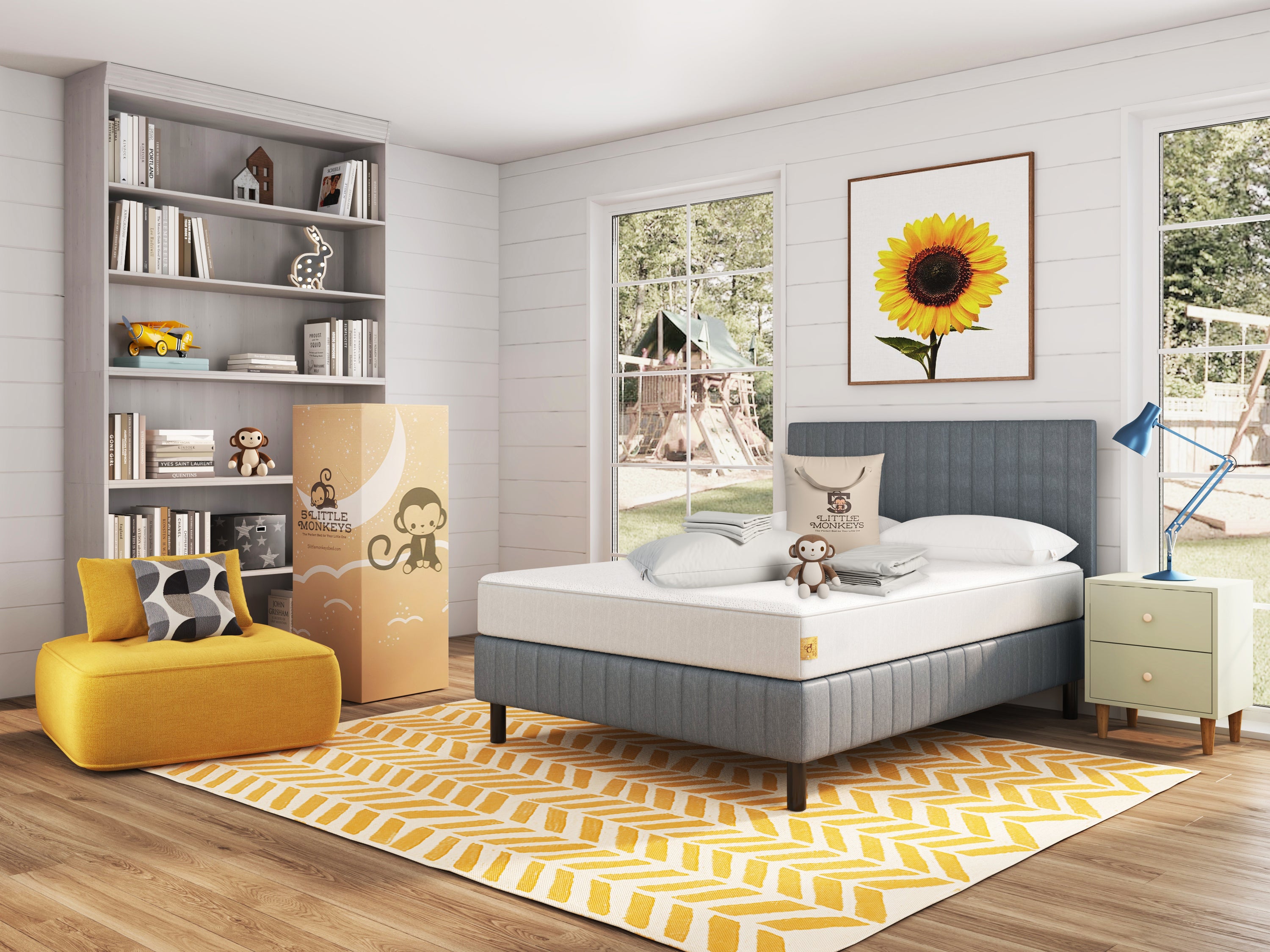 What's Included
The Advanced Hybrid Mattress + Bedding Bundle:
1 Advanced Memory Foam Mattress
1 Waterproof Mattress Protector with Tote Bag
1 Organic Cotton Fitted Sheet 
1 Organic Cotton Flat Sheet
1 Organic Cotton Pillow Case (Twin) - 2 Pillow Cases (Full & Queen)
1 Pillow (Twin) - 2 Pillows (Full & Queen)
Advanced Hybrid Mattress

The centerpiece of this bundle is our Advanced Hybrid Mattress designed for advanced spinal alignment and motion separation for co-sleeping.

Waterproof Mattress Protector

Our specially-engineered mattress protector is crafted with the highest quality waterproof and organic cotton materials. Its primary purpose is safeguarding your child's mattress and ensuring a healthy and clean sleep environment year-round. The waterproof feature prevents dust accumulation, accidents, and spills, providing an effective barrier against potential damage while also reducing allergies.

Organic Cotton Sateen Sheets

With a 500-thread count sateen weave, these sheets give unparalleled softness, durability, and breathability. We don't just care about your little one's bed but also their world. Our sheets accommodate a variety of mattress depths up to 12". Whether you have our standard mattress or one with additional padding, our sheets will fit snugly, ensuring a perfect fit every time!

Kids Pillow

Our standard-size pillow is designed with meticulous attention to detail to promote proper spinal alignment during sleep for children
CERTIFICATIONS
CERTIPUR-US ® CERTIFIED

(Foam) - This certifies that the foam in our kids mattress is free of mercury, lead, PBDEs, formaldehyde, phthalates, and more.

OEKO-TEX ® CERTIFICATION

(Mattress Cover) - All of our fabric is certified to be free from various toxic chemicals such as formaldehyde, cadmium, nickel, and more, meeting both US & European standards.

CPSIA CERTIFIED

(All Products) - Our products meet all standards from the Consumer Product Safety Commission, ensuring they're free of lead, phthalates, and other harmful chemicals.

PROP 65 COMPLIANT

(All Products) - All of our products comply with Prop 65, which means we will disclose any chemicals known to cause cancer, birth defects, or other reproductive harm. Thankfully we don't make our products with these chemicals - so there's no need to worry about it.

Fair Trade Certified

(Sheets/Pillow/Protector) - Fair Trade USA™ is building an innovative model of responsible business, conscious consumerism, and shared value to eliminate poverty and enable sustainable development for farmers, workers, their families, and communities around the world.

GOTS CERTIFIED

(Sheets)- The Global Organic Textile Standard (GOTS) was developed by leading standard setters to define world-wide recognised requirements for organic textiles. From the harvesting of the raw materials, environmentally and socially responsible manufacturing to labelling, textiles certified to GOTS provide a credible assurance to the consumer.

OCS CERTIFIED

(Sheets/Protector) - Textile Exchange is a global non-profit driving positive impact on climate change across the fashion and textile industry. It guides a growing community of brands, manufacturers, and farmers towards more purposeful production from the very start of the supply chain.  Its goal is to help the industry to achieve a 45% reduction in the emissions that come from producing fibers and raw materials by 2030.
Great bed for my little one
My daughter has been loving her new bed. We are really impressed because it is extremely comfortable and she has been sleeping in later since she started sleeping in it. Money well spent!
Bed Snob says: Get this bed!
I used to own a luxury bed store, and for that reason, mattress shopping and receiving is usually less than fun. I am constantly comparing beds/mattresses to the very expensive and very amazing beds we sold....
Enter 5 Little Monkeys: I have a 3 year old who is transitioning to her big girl bed. Finding a mattress that is comfortable and isn't going to off gas, and isn't going to break the bank is a challenge. I was thinking we were going to get an Avocado mattress, but something said keep looking. I ordered and was really pleased with the price. It arrived quickly and we just set it up tonight for our daughter. She loves it! And she was BLOWN away by the monkey that came with it. The mattress protector and pillow are great too... I am a happy customer and will be referring everyone to 5 little monkeys!
One complaint
My only complaint is the mattress protectors don't come in King sizes - would buy in a heartbeat
If only...
Ordered the sleep system and an additional twin mattress protector. Love it all so much, wish the protectors came in King sizes for my own bed