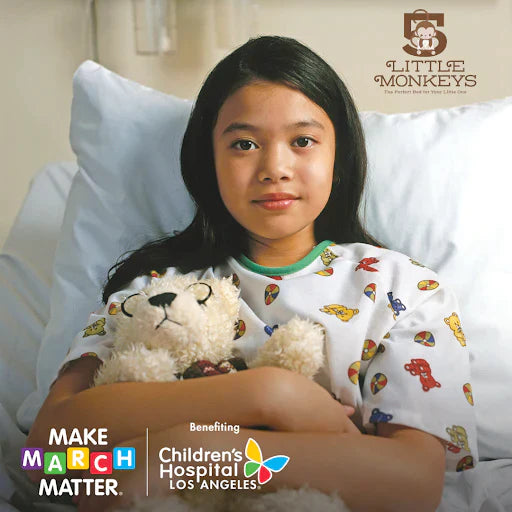 Make March Matter with CHLA
At 5 Little Monkeys we are committed to improving the quality of children's lives, starting with a good night's sleep, so it should be no surprise that we've decided to partner with Children's Hospital LA this February and March to give children bravely facing illness and injury a boost where it counts. We have poured our hearts into designing the best mattress for children, and for each purchase of our award winning 5 Little Monkeys Sleep System, we will donate $50 to kids in need with a minimum commitment of $10,000. Join us in our mission and enjoy $100 off on your purchase, sitewide.
Setting the Standard for Pediatric Care
Awarded Best Children's Hospitals Honor Roll in 2022, Children's Hospital LA has built a network of healthcare providers across Southern California so that more children can receive the specialized care they deserve and need. Through collaboration, innovation, and research, CHLA is able to make even the most advanced treatments accessible and convenient.
Healthy Sleep, Healthy Child
At 5 Little Monkeys, we have studied children's sleep habits from the ground up.The brainchild of husband and wife team, Jason and Courtney Harrow, the Sleep System was created for their two daughters with health and wellness as the priority. Designing and refining the best children's mattress is the culminating achievement of our dedication to improving the quality of kids' sleep. Our award-winning sleep system focuses on creating the ideal environment for rest, helping children develop positive habits around bedtime, wake less during the night, and enjoy the game-changing health benefits of a restorative night's sleep.
Join Us in Our Mission to Change Lives
Help us support the bravest little warriors we know, at home and in the hospital. Visit www.MakeMarchMatter.org to learn more about this annual campaign that takes the products and services we already love and amplifies their meaning. 5 Little Monkeys is founded on the belief that every child deserves the greatest health and wellbeing possible, and Children's Hospital LA is an unparalleled example of this dream in action. Discover the 5 Little Monkeys Sleep System and help us in our pledge to Make March Matter!